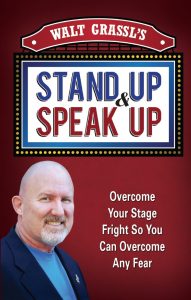 At the Toastmasters District Conference I attended on Saturday, one of the Toastmasters told me he enjoyed my book. He read it in an hour and really liked what I had to say.
He told me that he passed the book on to another Toastmaster. He also mentioned he had received the book from another Toastmaster. Oh me, oh my! My book is a floozy … it gets around!
The good news is people are reading my book, getting something from the content and passing it along.
Several times, while attending conferences, people have bought my book, read it that night and gave me positive feedback the next day.
Today, I was working out with my trainer, Jesika. She is in the final stages of finishing a book of her own. She is struggling with knowing when she is done. While talking about how long a book should be, I mentioned to her that I currently have dozens of longer books that I haven't yet read yet. She smiled and said she has the same problem.
We both buy books that we intend to read but we don't start reading them right away. We think they will take too long to read. She also mentioned that she liked the fact that my book is a short one (she has read my book three times and to my knowledge, she has not given it away). She decided to focus on making the content of the book crisp and not to worry about how long it is.
If you have a passion for an idea or you want to share your knowledge, write a book. You will demonstrate your expertise and you will leave a legacy in print. When you have said all you need to say, put your pencil down.
If your book ends up being 64 pages instead of 640, don't fret. People are more likely to read it. You may even write a floozy.
—
Living the Dream