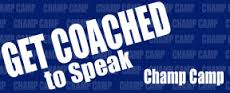 This past weekend, in Las Vegas, I spent two days with a dozen amazing champ-campers and two award winning speaking gurus, Patricia Fripp and Darren LaCroix, at the Get Coached to Speak Champ Camp.
Patricia Fripp was the first female elected President of the National Speakers Association (NSA) and is a member of the NSA Hall of Fame. Darren LaCroix is the 2001 Toastmasters International World Champion of Public Speaking.
On Monday, I was working out with my fitness trainer, Jesika Fleming. I shared some of what I learned in between the torture … er, exercises.  (Don't punish me for that, Jesika, please?) At the end of the workout, she thanked me for sharing.  I suddenly realized I was doing it to help me as much as to help her. What?
I was employing the "teach-to-learn" technique I came across several years ago. Simply put, a good way to reinforce what you learn is to try to teach it to someone else. Learn, teach, do.
Here are some of the things I learned at Get Coached to Speak.
As you analyze the current version of your speech, look for what is missing and look for what needs to be added.
Pause with a purpose

 Don't step on laughs
Don't step on thoughts
Give your face and energy time to change

One thought per sentence

Use micro pauses within sentences
Emphasize the important words

Time is a set-up, not the punch
Movement is good, if it is strategic
Avoid sameness
Tell stories using dialog, not narration
Collect perspective changing stories
Constantly rehearse you focused transitions.
Use quotes from real people feeling the problem
How can I say it better, in fewer words
One final thought. One of my Walt's Rules is cross-training. I used Toastmasters, standup and improv to help my speaking.
Patricia mentioned other related skills I can add to my cross-training repertoire:
Copywriting
Screenwriting
Choreography
That's how I spent my weekend in Vegas. I did not get a hangover, but my speaking got a makeover.